Alicia Brock Alsip Recognized as GaDOE ESOL Exemplary Teacher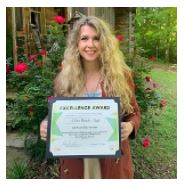 ---
Alicia Brock Alsip was recently chosen as a Georgia Department of Education (GADOE) English to Speakers of Other Languages (ESOL) Exemplary Teacher for the 2020-21 school year. Alsip currently serves as an ESOL teacher at Whitesburg Elementary, Roopville Elementary, Bowdon Elementary, and Bowdon Middle School for grades K-8.
Alsip earned her Bachelor of Arts Degree in Early Childhood Education at Truett McConnell University and the University of West Georgia, and after working with the Fresh Air Home for Children on Tybee Island Georgia, she began her teaching experience as a Pre-Kindergarten teacher in Carroll County. The following year she served as a missionary teacher in Culiacan, Sinaloa, Mexico through the Southern Baptist International Mission Board, and after returning to the United States, she added a degree in Art Education at the University of West Georgia while teaching art at Villa Rica Elementary. She continued her education by adding an ESOL certification and teaching ESOL in the Carrollton City System. In 2016, she completed her Masters in Art Education from Piedmont University.
Alsip later had the opportunity to be the Creative Arts Teacher at The Helen Keller School in Talladega, Alabama, which led to subsequently working as a Life Coach Teacher in a program for special needs adults. In 2014, she acquired her Middle Grades Certification and returned to Carroll County as a system wide ESOL teacher, where she has been for the last seven years.
She served as a Sunday School teacher and the Music Director for Cornerstone Baptist Chapel for many years as well as being involved for many years in the Carroll County Community Chorus and Artist Guild. Currently, when Alsip is not in the classroom, she is a working artist whose focus is creating bronze sculpture, pencil/mixed media, and oil portraiture concentrating mostly on western subject matter and enjoys traveling through the western states for inspiration.
The GADOE seeks to recognize ESOL educators who demonstrate outstanding dedication to English Learners. Carroll County School System congratulates Ms. Alsip and appreciates her commitment to providing premier educational opportunities for our students!